Here's how to solve it if the programme believes you don't have an authentic Adobe licence even though you do.
Have you ever used an Adobe software, particularly Adobe Photoshop or Adobe Illustrator, and received a warning that "This unlicensed (or non-genuine) Adobe app will be disabled soon" or a similar popup? This indicates that Adobe thinks you're running a pirated version of its software.
If you experience this issue when using a cracked copy of the programme, activate it using the original licence to make the popup disappear. Nevertheless, you should take the issue seriously if you've run across it despite possessing a legitimate licence.
Here's how to solve this issue whether you use a licenced copy or a non-licensed one.
Is the pop-up message stating "This Unlicensed (or Non-Genuine) Adobe App Will Be Disabled Soon" a scam?
Scammers have learnt to create their own lookalikes of this particular Adobe popup that catch unwary victims in a phishing attempt because it has affected PCs of users on a very broad scale. Here are some hints to aid in figuring out whether the popup is legitimate:
The popup may be a scammer's ploy if you don't use any Adobe products but yet see this warning on your computer.
Click the More Info option if this box appears and you use Adobe software. The link is legitimate if it directs you to the official Adobe website; else, it is not.
Only the Adobe website or one of its authorised partners are the places where you may purchase a licence for an Adobe programme. It's probably a fraud if the popup tells you to buy the licence from any other website.
1. Make sure your Adobe software is genuine.
Verify the authenticity of your Adobe programme to start the investigation. The steps to check that are as follows:
Right-clicking the programme shortcut will bring up a context menu where you may choose Open file location.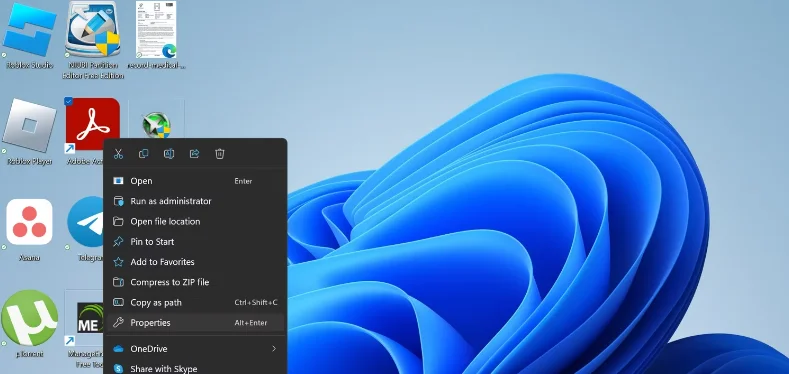 The programme executable file's context menu may be accessed by right-clicking it and selecting Properties.
Look for the Copyright information under the information tab.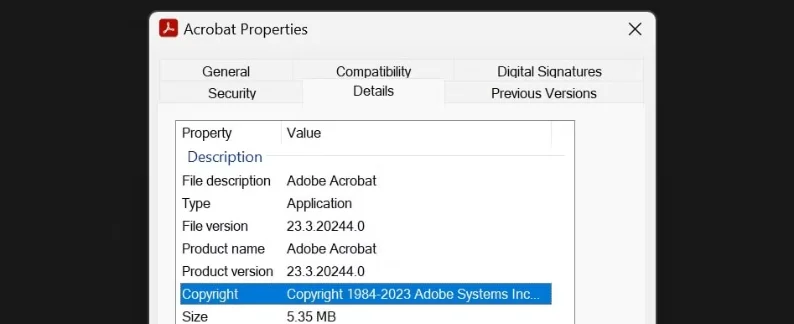 If Adobe System Inc. owns the copyright, the software you use is legal. If the programme is original, consider if you have activated it using a legitimate licence. If the response is affirmative, get in touch with Adobe support by calling one of the numbers provided on the Adobe Help website so they can look into the matter.
Purchase an original licence if you presently use an unauthorised product to solve this issue. It's time to try something else if Adobe does not respond favourably but you would like to temporarily cease seeing these pop-ups.
2. Discontinue the Adobe Genuine Software Service
One of the services Adobe utilises to stop unauthorised usage of its goods is the Adobe Genuine Software service. It aids the business in stopping piracy. Adobe regularly verifies the legitimacy of Adobe products installed on a device using this service.
The "This unlicensed (or non-genuine) Abode app will be disabled soon" warning usually appears as soon as the verification checks notice odd behaviour, prompting the user to buy a licence. Users of the licenced version of the programme, however, have also lately gotten this notice.
You can try deleting this service because it directly relates to the notice being discussed. Fortunately, even if it appears that you are engaging in piracy, you are not. In reality, Adobe Help contains instructions on how to remove the service.
If no other Adobe programmes are present, the service is meant to uninstall itself automatically. As a result, you can completely reinstall all of your apps to see if it solves the issue.
You can choose to remove only the Adobe Genuine Service if you'd prefer not to do so. Use one of the various methods available to remove programmes from Windows and disable Adobe Genuine Service. Check if this resolves your problem.
3. Terminate other Adobe-related services
If that doesn't work, stop other Adobe-related activities using the Task Manager and the Services app. Verifying that your software is genuine and reinstalling the Adobe Genuine Software should be sufficient to fix the issue. The steps you should take are as follows:
Open Task Manager by typing "Task Manager" into Windows Search.
In the search box at the top of Task Manager, enter "Adobe" and press Enter.
Locate any Adobe-related services, then shut them down by right-clicking each one and selecting "End task."Locate any Adobe-related services, then shut them down by right-clicking each one and selecting "End task."

Then, enter "Service" into Windows Search to launch the Services programme.
Locate the Adobe-related services, select each one, and then choose Finish job.
The following are some of the key procedures and services you ought to stop using:
Genuine Helper for Adobe.
Download Adobe CEF Helper.
AdobeNotificationClient.exe
AdobeGCClient.exe
Creative Cloud by Adobe
Adobe IPC Broker with Adobe GC Client Application
Genuine Adobe Monitor Service
If You're Still Having Problems…
Unfortunately, there isn't much more you can do to avoid executing dubious modifications and fixes to your PC if the error notice still appears. As a result, it could be wise to switch to a different Adobe software or leave the Adobe family entirely at this point.
In our article on well-known programmes that you can use for free or inexpensive, we discussed how to utilise a few Adobe applications without going broke. And don't forget to take advantage of this chance to experiment with some completely other options by looking at the free alternatives to Adobe Lightroom, Illustrator, and Photoshop.
Block Annoying Notifications and Enjoy Your Software on Windows
The "This unlicensed (or non-genuine) Adobe app will be disabled soon" message may be avoided by purchasing the genuine licence if you are presently using an unlicensed Adobe app. If you already own a valid copy, activate it using the original licence you purchased straight from Adobe. The programme executable file's context menu may be accessed by right-clicking it and selecting Properties.
You should also check to see if your operating system hasn't been pirated, much like Adobe.
See more: click here