Online, learn about the top 5 Mac parental control programmes for protecting kids. Effectively manage screen time, filter material, and keep an eye on things.
It's only natural for parents to want to make sure their kids are secure and protected when using technology. It's getting harder to watch over and regulate our kids' online behavior as digital gadgets become more commonplace.
Thanks to parental control applications, parents can limit their kids' screen time, block objectionable information, and keep an eye on how they behave online. Five of the top parental control programmes created exclusively for Mac users will be covered in this post.
Qustodio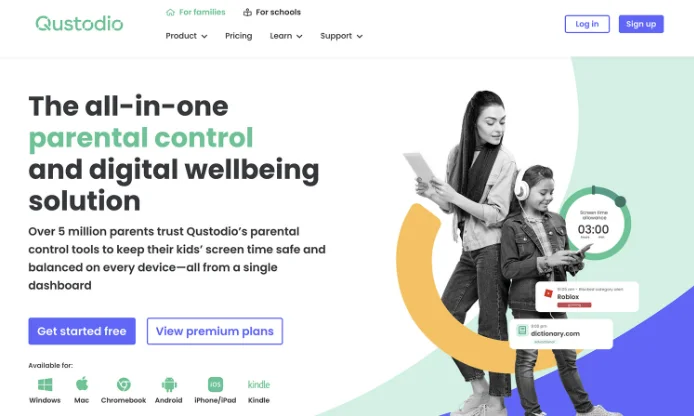 A parental control tool called Qustodio is intended to keep kids safe as they use their Mac computers. It includes a number of functions, such as location tracking, social media monitoring, site blocking, and screen time management.
Parents may use a thorough dashboard to establish device usage time restrictions, prevent access to objectionable information, and keep an eye on their kids' online activity. By blocking adult websites, gambling sites, and violent or extremist content, parents may shield their children from hazards online.
The real-time dashboard also shows use statistics and notifies parents when their kids access restricted information or behave inappropriately online, enabling them to prevent problems before they arise.
In conclusion, Qustodio is a user-friendly and adaptable parental control programme that enables parents to regulate their kids' screen time, block objectionable information, and keep an eye on their online behavior. The variety of functions it offers gives parents piece of mind by guaranteeing children's safety and security when using Mac gadgets.
Windows, Mac, Chromebooks, Android, iPhone/iPad, and Kindle users can download Qustodio.
Price:
$54.95 per year for 5 gadgets
$106.45 annually for ten devices
15 devices for $137.95 annually
Family Norton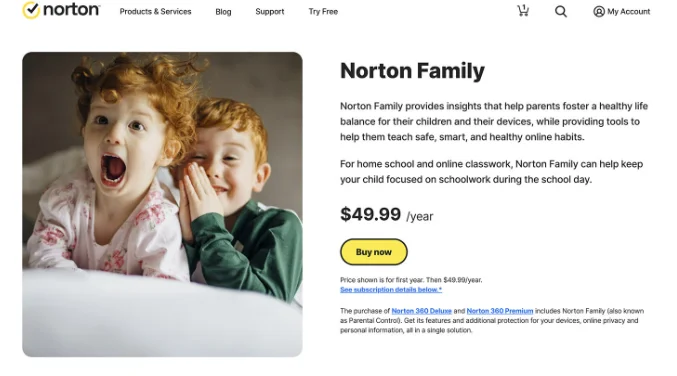 Web filtering, social media monitoring, and time limitations for device use are services offered by Norton Family. This makes it easier for parents to control their kids' screen time, prevent access to objectionable material, and monitor their online habits.
While social media monitoring helps spot possible cyberbullying situations and safeguards children's online privacy, web filtering enables parents to remove hazardous information. Parents may spot concerns and take early measures to resolve problems thanks to detailed information on browser history, search queries, and app usage.
For parents who want to keep their kids safe online, this parental control programme is strong and easy to use. It is a great option for Mac users because of its features that allow you control screen time, filter out offensive information, and keep tabs on social media activities
For Windows, Android, iOS, and Mac, there is Norton Family.
Cost:
Famisafe
Famisafe was created to assist parents in monitoring their kids' internet behavior. One of its main components is screen time management, which enables parents to impose restrictions on device use and encourages a healthy balance between online and offline activities.
Additionally, the app provides web filtering to censor objectionable information, app monitoring to control app use, and real-time location tracking to protect kids. Parents may examine and restrict the use of potentially hazardous or unsuitable applications on their child's smartphone via app monitoring.
For Windows, Android, Mac, iOS, Kindle, and Chromebooks, Famisafe is available.
Price:
$10.99/month for the monthly plan
Plan for a year at $60.99
Monthly Plan – $19.99 per month
Nanny Net

With the use of Net Nanny's sophisticated web filtering, parents can prevent their children from accessing offensive websites, gambling sites, and violent content. Additionally, it offers screen time management. Enabling kids to establish use restrictions on their devices and maintain a balanced schedule of offline and online activities.
The software also has tools for keeping tabs on and restricting kids' use of social media sites like Facebook and Instagram. Parents may monitor the posts, comments, and messages that their kids make while receiving notifications for any potentially hazardous behavior.
In addition, Real-time location tracking is provided by Net Nanny so that parents may keep an eye on their children' locations and get alerts when they enter or depart predetermined regions.
In conclusion, Net Nanny offers parents who want to protect their kids online a complete set of tools. It is a fantastic option for Mac users and parents because it has features like browser blocking, screen time management. Social media monitoring, and location tracking.
For Windows, Mac, iOS, Android, and Kindle, Net Nanny is available.
Cost:
$39.99 per year for one device
$54.99 per year for 5 gadgets
$20 gadgets for $89.99 per year
Norton Safe Kids
Kaspersky Safe Kids is the last but certainly not least. By giving parents options to limit their children's access to unsuitable information. Regulate screen time, and track their location, this parental control app's main objective is to guarantee that kids have a safe and secure internet experience.
The app comes with a number of functions, including content filtering—which prevents access to adult websites—social media monitoring, which enables parents to keep tabs on their kids' social media use, and app use control. Which enables them to set time restrictions for particular applications.
In order to keep parents informed and assist them in resolving any possible problems. Kaspersky Safe Kids also offers real-time warnings and reports on their child's online activity.
With Kaspersky Safe Kids, parents can easily safeguard their children on a variety of platforms since it is compatible with many other platforms. Including Windows, Mac, Android, and iOS.
There are versions of Kaspersky Safe Kids for Windows, Mac, iOS, and Android.
Price:
See more: click here